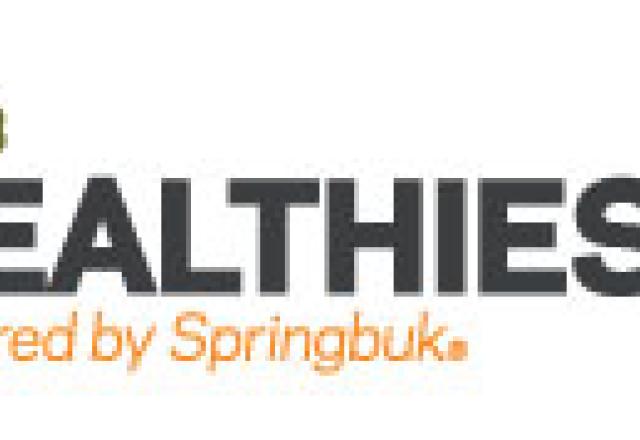 Cambia Health Solutions has been recognized as one of the Healthiest 100 Workplaces in America, an awards program presented by Springbuk®.
The top one hundred workplaces were honored at the Fitbit Captivate Conference in Chicago on September 20th. The winning organizations were honored for their commitment to employee health and exceptional corporate wellness programming. Over 1,000 of America's top wellness programs were evaluated for this award across the country.
Award applicants were evaluated across six key categories: Culture and Leadership Commitment, Foundational Components, Strategic Planning, Marketing and Communications, Programming and Interventions, and lastly, Reporting and Analytics. Applicants were evaluated with the proprietary Healthiest Employers® Index, a 1-100 rubric for wellness programming. These organizations have achieved lasting success through a wide array of employee wellness initiatives and corporate wellness programs.
By winning this award, Cambia Health Solutions is recognized as one of the best of the best in worksite health nationally. The Healthiest 100 Workplaces in America award culminates the conclusion of the year-long wellness awards program that Healthiest Employers® hosts in over 40 cities across the United States. Each of the winning companies is considered an exemplary leader for the effectiveness of their population health and wellness initiatives.
Cambia's commitment to employee health forms a fundamental pillar of its corporate values. The WellPower program presents a holistic, integrated approach encouraging employees to focus on everyday habits that shape overall wellbeing and productivity. Investments in staffed on-site fitness centers, subsidized healthy dining options, team-based participation challenges, biometric programs and financial health seminars empower employees to make positive lifestyle changes. Creating a true culture of wellness isn't defined by measurements or benefits, but transforming employees into health advocates within their communities.
"This year's winners comprise our strongest class of healthy workplaces since we launched the program nine years ago," said Rod Reasen, co-founder of the Healthiest Employers® Award Program and Springbuk. "This year's Healthiest 100 Workplaces include organizations as small as 19 full-time employees and as large as over 150,000 employees. They span nearly every industry, size, geography and include both private and public organizations."
About Cambia Health Solutions
Cambia Health Solutions, headquartered in Portland, Oregon, is dedicated to transforming health care. We put people at the heart of everything we do as we work to make the health care system more economically-sustainable and efficient for people and their families. Our company reaches more than 70 million Americans nationwide, including more than two million people in the Pacific Northwest who are enrolled in our regional health plans. To learn more about us, visit CambiaHealth.com or Twitter.com/cambia.