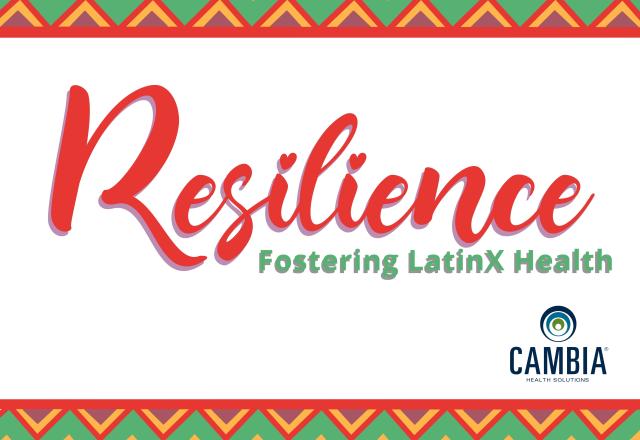 By Dee Cruz, Vice President of Consumer Obsession and Executive Sponsor of the HOLA employee resource group at Cambia
This week, National Hispanic Heritage Month (Sept. 15 – Oct. 15) kicked off. The month recognizes and celebrates the cultures, histories, and contributions of Hispanic and Latinx Americans in the U.S. At Cambia, alongside HOLA (Home of Latinxs and Allies), our employee resource group, we take time this month to promote storytelling and connection, leadership and most recently – a celebration of the Arts. 
2020 has been unprecedented for all of us. Hispanic Heritage Month helps us honor the power of resilience and community to cultivate healing and wellness. Now, more than ever, we are reminded of how the health of one individual can impact the health of many others. 
This year, Cambia's theme is Resilience: Fostering Latinx Health.  Over the next month, we will share resources and stories of resilience to foster health: one wholesome meal, good deed, or health tip at a time.  
To open our Latinx Health focus, we want to highlight work that employees, Sebastian De Freitas, and Dr. Jim Polo, Executive Medical Director, did to support our Latinx and Spanish-speaking members to highlight awareness around COVID and how to protect themselves. Given that COVID-19 has had a disproportionate effect on Black, Latinx and Indigenous people – we are so grateful for their time on this video. Please share it with any Spanish-speaking friends and family!  
Hispanic Heritage Month Facts:
National Hispanic Heritage Month, begins each year on Sept. 15, celebrates U.S. Latinos, their culture and their history. 
Established in 1968 by Congress as Hispanic Heritage Week, it was expanded to a month in 1988. 
The celebration begins in the middle rather than the start of September because it coincides with national independence days celebrated in several Latin American countries:

Guatemala, Honduras, El Salvador, Nicaragua and Costa Rica - Sept. 15, 
Mexico - Sept. 16
Chile - Sept. 18 
Belize - Sept. 21
We're honored to celebrate and share National Hispanic Heritage Month with all of you!