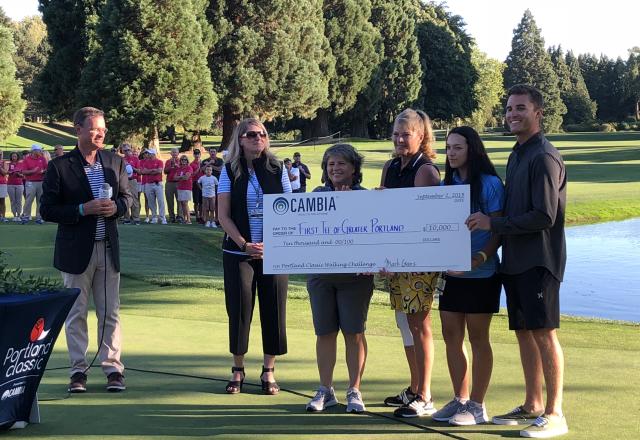 It would take an average person 30-days to walk 2,000 miles. Yet at the Cambia Portland Classic, hundreds of golf fans and families walked this distance during the four-day tournament—4,202,927 steps— all in the name of charity and community empowerment.
Now in its third-year the Cambia Charitable Walking Challenge invited attendees to the Fan Pavilion, where they picked up pedometers, walked the course and voted with a symbolic golf tee and their steps, for one of five non-profit organizations; the winning organization receiving  $10,000 from Cambia.
Charities for this year's challenge included:
At the conclusion of the five days, the winning non-profit was First Tee, which provides children, particularly underprivileged, low-to-moderate income, and special needs youth, the opportunity to participate in educational programs that build character, instill life-enhancing values and promote healthy choices through the game of golf.
As the title sponsor of the Cambia Portland Classic over the last five years, we are honored to be part of the tournament that celebrates 47 years here in Portland while endorsing health and actively supporting our community.
Watch Alison Arella, Assistant Director of Corporate Social Responsibility at Cambia, share more about the Walking Challenge through a special live segment on KPTV.