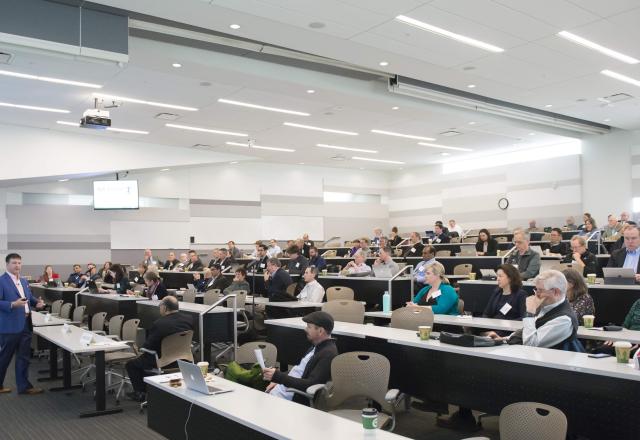 The Pacific Northwest is home to a vibrant regional hub for innovative health care technology. At this year's OHSU Commercialization Conference, innovators, investors, industry partners and community collaborators came together with a focus on understanding how collaboration can fuel health care innovation.
As the keynote speaker, Cambia Chief Operating Officer Jared Short shared our vision for personalized health care experiences, and what we're doing to get there through data and technology.
Cambia's journey to "flip data on its head"
"In 2015, someone asked me, 'Jared, what is your greatest asset at Cambia?' And I said data. At the time, I had no idea what I was saying. I knew data was our key asset, but I didn't know how," said Jared.
"It got me thinking in a very different way. We flipped our data on its head and stopped looking at it as a way to predict risk for the purpose of price and premiums. If you peeled the data layers back, there were real people's health care stories behind every data point. We realized we could use our data to build upon and improve personal health care journeys."
Maintaining a human touch
When any of us are dealing with something complicated, we want an SOS button. A person's journey isn't 100% linear. In those twists and turns, we need to get people out of there.
Jared shared that while we have a lot of digital solutions, we recognize that there's a point where people may want to just have a phone call with a person. All of our solutions have a button that says "call now" or "chat now"—that SOS button.
The importance of collaboration
Jared also emphasized that collaboration is key to successful innovation, maintaining focus on real problems for real people and working together to help people. He highlighted Cambia's recent Da Vinci Project partnerships with OHSU and MultiCare Connected Care as an example of this type of collaboration.
"Interoperability is not about fixing delivery systems," said Jared. "What's more important is what problems are you going to solve for real people when you do it."
Highlights from Twitter
The time is now, Jared & @Cambia Team have been at it for over a decade; investing & delivering @HealthSparq, @MedSavvy, @HealthEcho, @CambiaGrove, @CambiaHealthFdn and leading with @carinalliance, @HL7 DaVinci to name a few; count us in for the race to transform health care! https://t.co/A1rRMFeSHB

— Laurent Rotival (@rotival) March 28, 2019
Jared L. Short, COO of @Cambia discussing the personalization of #healthcare experiences through "new levels of innovation and tremendous collaboration" at the @OHSU_TTBD Commercialization Conference. pic.twitter.com/cqtRtCxDdm

— Cambia Grove (@CambiaGrove) March 28, 2019