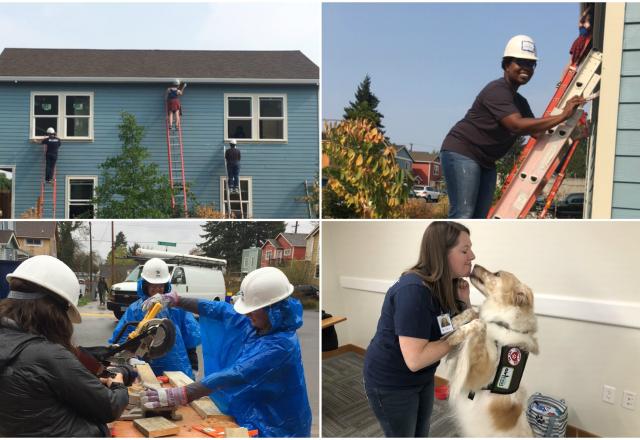 Cambia Health Solutions recently received Gold Certification from the City of Portland in sustainability at work. This accreditation is just one example of the Cambia Corporate Social Responsibility team's ongoing commitment to promote sustainable business practices and align environmental stewardship, economic health and social equity to create strong, vibrant communities.
Embracing sustainability as a core ideology, Cambia has implemented several energy reduction tactics and waste reduction initiatives—specifically, supporting a remote workforce and active transportation solutions, composting and recycling processes, an expansion of electronic resourcing, and reusable water systems. As a result, 30 percent of Cambia employees work from home, 20 percent of employees utilize company –subsidized public transit and 30 percent of paper usage is done with recycled materials.
Always looking for opportunities to embrace sustainability, 60 Cambia employees recently celebrated Earth Month in a creative way by repurposing surplus t-shirts into dog toys. We can't wait for all the dogs at the Oregon Humane Society to put these to good use.
Awesome day repurposing old t-shirts into dog toys for the @OregonHumane Society! We even got to hang with Archie #WeAreCambia pic.twitter.com/4PYNcYP2U4

— Rachel Day (@RachelDaySocial) April 19, 2018
In addition to Cambia's support of green practices, we invest in strategic partnerships that enhance the overall health and well-being of communities. Providing time and resources to civic and non-profit organizations helps build a healthier more stable environment for the people we serve. Programs include our employee-grown garden, building homes with Habitat for Humanity, sponsoring  SOLVE cleanups and participating in the Eco Challenge, where employees set up goals centered around being better stewards of our health, community and natural resources.
To learn more about all of Cambia's work to promote sustainability within the organization and our communities, please visit Cambia's commitment to sustainability or contact Corporate Social Responsibility Sustainability Manager, Maureen Hamilton, at Maureen.hamilton@cambiahealth.com.