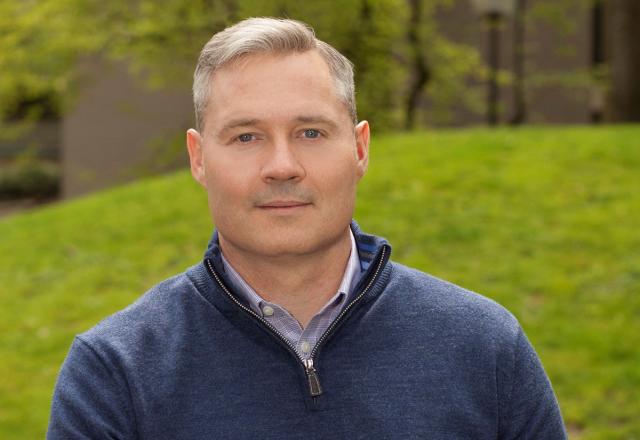 This post is part of a series that highlights Cambia's innovative Executive Board Placement program. The program is run by the Corporate Social Responsibility team and the goal is to place senior-level employees at Cambia with nonprofit organizations to serve on their boards. Cambia was founded on the principle of "neighbor helping neighbor" and this program promotes employee volunteerism and helps build healthier communities. 
For children and teens who are interested in learning about the business world, Junior Achievement is a great starting point. The organization is designed to inspire and prepare young people to succeed in a global economy. For Rob MacNaughton, Chief Product Officer at Cambia Health Solutions, helping support Junior Achievement of Oregon and SW Washington was an easy decision since he participated in the program as a youth.
How did you get involved with Junior Achievement?
Rob: Like many kids in high school, I struggled with deciding what I wanted to study in college and what career path I should take. I joined Junior Achievement and quickly realized that I had an interest in business. In fact, it helped me with my first foray into entrepreneurship. A few friends and I started a small business focused on manufacturing and sold our product over the course of an academic year. I learned the basics of customer service, how to work with others, write a business plan and drive marketing programs.
What do you do as a board member?
Rob: Serving on the board is a very rewarding experience since I get to give back to an organization that helped me determine my professional career path. As a board member, I get to work with the management team on developing strategies for Junior Achievement, advise on educational programs and make sure that resources are allocated wisely.
Have there been any projects that you've been able to help drive?
Rob: Junior Achievement's JA Finance Park is a program dedicated to educating middle and high school students in the basics of financial literacy: budgeting, investing, managing risk - all while reinforcing the value of education and how it affects one's future. The program blends teacher-led classroom instruction with a culminating simulation day that delivers a high-tech, high-touch educational experience at our mobile exhibit. The kids learn about money management, financial literacy and what it's like to be part of the workforce. I think it's incredibly valuable since these principles of business are not taught in the classroom.
What types of programs does Junior Achievement provide?
Rob: We have programs that are designed for elementary, middle and high school students since the different ages each have different interests. For elementary and middle school students, we offer a wide variety of programs. For high school students, we help them prepare for college and their careers with programs including JA Be Entrepreneurial, JA Personal Finance, and JA Career Success.
How large is Junior Achievement in Oregon and SW Washington?
Rob: Junior Achievement of Oregon and SW Washington is one of the largest chapters in the U.S. Last year, over 44,000 students participated in a Junior Achievement program, representing nearly 500,000 hours of contact hours. Because we focus on teaching financial literacy and workforce preparation, it's hard to pinpoint specific benefits, however, I can tell you that the impact is far-reaching.  
What is your view of the board placement program and Cambia's support of your time with the Junior Achievement?
Rob: Our company is based on the principle of neighbor helping neighbor, and this program is really an extension of that philosophy. Our employees, whether they are on a board or volunteering are able to have a positive impact on our local communities. I think it's a wonderful program and feel fortunate to be involved with Junior Achievement.