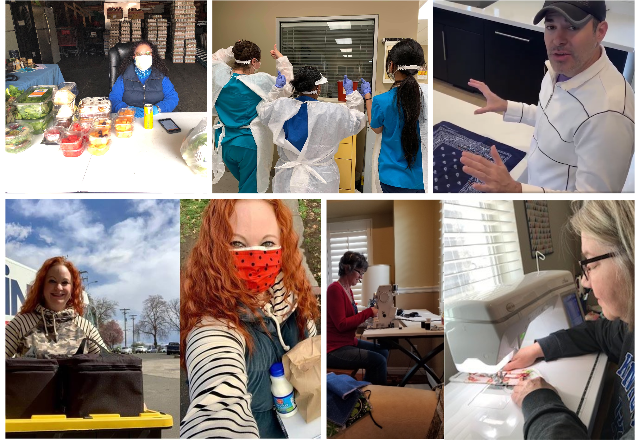 On May 5, 2020, the world will celebrate, Giving Tuesday NOW, a global day of giving and unity in response to the unprecedent need caused by the COVID-19 pandemic.  Designed to drive generosity and citizen engagement for the organizations selflessly serving our neighbors in need, this campaign presents a unique opportunity for us all to come together as one worldwide community.
Giving back and putting people at the center of everything we do is a cornerstone of Cambia's culture.  We believe one person can change the world.  Check out the ideas below and join us in supporting #GivingTuesdayNow to give back in the ways you feel most compelled. 
Donate
Give money, goods, PPE supplies – anything you can to organizations on the front lines of this pandemic.  Also, remember to show support for local nonprofits, who despite COVID-19 are continuing to provide much needed services community. 
Barriers to food access have significantly increased as a result of COVID-19. This public health crisis is leaving millions of children, families and elderly adults at risk.  Organizations such as Feeding America, Food Lifeline (WA), Idaho Foodbank, Oregon Food Bank, Second Harvest (ID/WA), and the Utah Food Bank are working to ensure all Americans stay fed and healthy during this unprecedented time.
The nation's blood supply is facing a dire shortage. The cancellation of numerous blood drives due to concerns about the coronavirus has created a significant public health risk in our area and across the country. Check the American Association of Blood Banks locator, visit the American Red Cross website, or contact local blood center.
Volunteer
Opportunities to volunteer do exist and enables us to give back while maintaining social distancing.   
Make/deliver meals or offer to get groceries to a neighbor in need. Community partners like Meals on Wheels need drivers to deliver meals and ensure that no one goes hungry or feels abandoned as a result of self-isolation.
Team Rubicon, a veteran-based company that provides services during natural disasters and emergencies, has assembled teams across the country to help package and distribute food, and are even supplementing hotline staffing.
Hospitals and front-line workers are asking for mission-critical help in solving the shortage of N95-type masks during the current Coronavirus (COVID-19) pandemic. Read Calling All People Who Sew And Make: You Can Help Make Masks For 2020 Healthcare Worker PPE Shortage and check out this instructional video on how to make the masks.
Support Small Business
Small businesses have been heavily impacted as workers are forced to stay home, and restaurants are mandated to close or offer only delivery and takeout options. Support them by buying a gift card online or ordering takeout/delivery to infuse cash flow and engage with you favorites on social media.
Show Kindness 

―

it's Contagious 
Buy flowers or groceries for a friend, offer to walk a neighbor's pet or connect with seniors and at-risk populations. Organizations like Marquis Company's, Consonus Health, have launched a virtual campaign to reduce the effects of self-isolation by inviting individuals to record a video and upload it to their Facebook page. Learn how you can share encouragement, tell a story, or even show them what you've been up to.