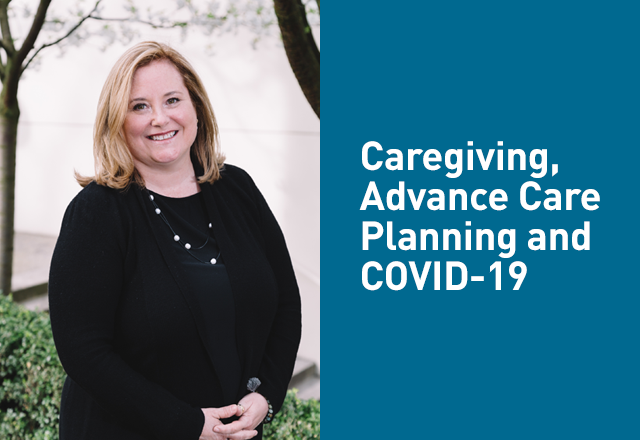 By Peggy Maguire, Senior Vice President, Palliative Care and Caregiving Solutions, Cambia Health Solutions
In Part 1, "Impact of COVID-19 on Advance Care Planning and Caregiving Conversations," we shared how COVID-19 is impacting the day-to-day responsibilities and needs of caregivers across the country. But what about the long-term implications of those caregiving relationships?
Many have called for a renewed attention to advance care planning in light of the pandemic. A Boston Globe op-ed called for "both physicians and patients to arrive at a shared understanding of patients' priorities." The Conversation Project released a special resource to guide people through the unique conversations that COVID-19 requires.
In our survey of 400 US adults, we asked respondents to share information about health care proxies, both whether they are the proxy for a friend of family member and whether they've established a proxy for themselves. We found that there is significant opportunity for further education in what a health care proxy is and how to establish those relationships.
When asked, "Are you the designated decision-maker or health care proxy for a friend or family member?", 54% responded "Yes," 37% responded "No," and 10 percent responded, "Not sure." When asked if they had designated a health care proxy for themselves, the rate was even lower, with 60 percent responding "No," or "Not sure." Surprisingly, results are consistent across age ranges. Respondents ages 18-35 and 35-65 had similar answers for whether these proxy relationships were established.
However, for those who answered yes for either serving as or establishing a health care proxy, there was strong confidence in understanding preferences and priorities.
Another positive finding from the survey was around "having the conversation." 60% of all respondents answered "Yes" when asked if COVID-19 has started a conversation about caregiving with a loved one.
While it can be daunting, advance care planning at its core is all about understanding your own priorities and the preferences of your loved ones. That can start with a simple conversation.
For more resources on how to have that conversation, how to set up a designated health care decision maker, or how to document your own care preferences, the Conversation Project has compiled a comprehensive resource guide that includes guidance specific to COVID-19.