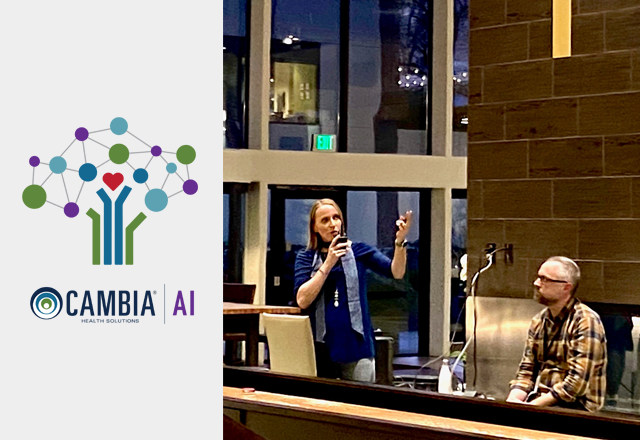 By Jen Tschirpke, Senior Clinical Analytics Manager, and Dean Nida, Senior Data Scientist
Creating a person-focused health care system means putting ourselves in people's shoes and thinking about every health care event they may be experiencing. It also means going beyond identifying needs and also providing help when and how each person needs it. When would be the most impactful time for you to receive additional help from your health plan? Do you want someone to connect with you while you're in the hospital, or after? How would you want to be contacted?
Cambia's Data Science and Engineering teams partnered closely with our case managers with the sole purpose of identifying and stratifying people who can benefit from additional support. In support of this purpose, this cross-functional team reframed the thinking to consider the care events or continuum of events as part of a longer-term health care journey. Using this perspective, the team was able to look at all the little events that may lead up to a big event and/or to determine when events are crossing a critical timeliness threshold.
The clinical smart queues system is an automated system developed to identify health plan members in need of case management and ensure outreach is timely to those most in need of additional support. The system has three primary functions that allow the business to work with a variety of data experts throughout the company to develop identification logic and for that logic to be as complex as necessary to meet the needs of the interventions it enables:
List generation – This component automates running the individual identification methods daily. It can also ingest lists and events from other third-party identification systems – an important piece of the health care puzzle since many providers and hospitals don't all use the same electronic health record system. This means our system can act as an integration point across many health record solutions.
Master list consolidation – This component combines individual lists into a single list and orders it so the highest risk people are at the top using a variety of ordering methods ranging from simple heuristics to predictive models.
Feedback and metrics – This is the smart part of the clinical smart queues system. For every identification method in production, we built an end-to-end system that allows for daily monitoring of variables, such as the quality of identification methods, bandwidth, and how many cases queued are being reviewed and contacted. We built an immediate feedback loop from clinicians directly into their workflow, which allows us to measure everything without interfering with their work. These metrics are critical for ensuring the lists are working as expected, gives us insight into what lists could use improvement, and can be used to show the value of our work to the business.
We would emphasize two points here: First, you shouldn't build a product/system unless you know how you will measure performance/value consistently over time. Second, you should think about how to capture feedback into existing workflows. These two tenets have allowed us to maintain and improve this complex system and continuously improve it over time.
Working Iteratively with End-Users to Develop and Hone the Identification Methods
Our small, cross-functional, agile team has been using informal versions of the Plan-Do-Study-Act model, or for those more familiar with IT, the Agile Methodology. In both, it is critical to include the right expertise, which means including frontline staff. Our core team includes a data scientist/data engineer, a clinical analyst, an actuary, a nurse case manager and a product owner. We meet twice weekly and work in two-week sprints incorporating rapid iterations with the goal of rapid improvement. Before any identification method is moved into production, case manager sign off is required. If there are still things to improve, we go back and work on it in rapid cycles until it passes muster.
By ingraining the above methods into our processes, the clinical smart queues system has become the go-to system for Cambia's clinical staff. With this system, we've integrated 70 (and counting!) different identification methodologies with end-to-end metrics on all of it. We are proud that we achieved a case hit rate -- our measure of precision -- of 77%. This means three out of every four cases our clinical staff review are deemed to be the right person at the right time, having actionable needs. Moreover, we know exactly where we can make improvements to different identification methodologies, whether it's developing a data science model, looking further upstream, or making code revisions.
The powerful combination of the right talent on the team -- those with a passionate focus on bettering our clinical staff and people's lives -- and effectively leveraging technology and AI is a key differentiator in why this work has been so successful.