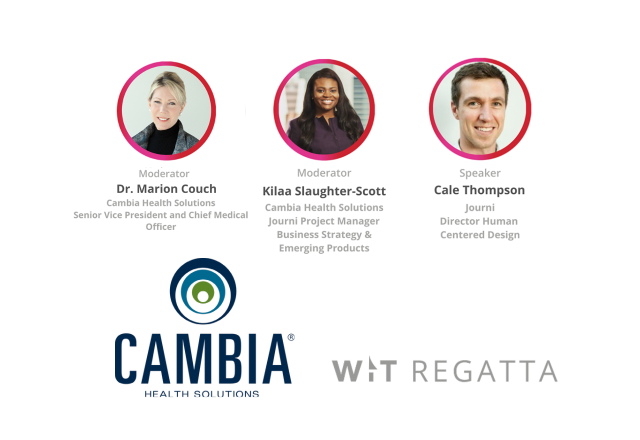 Women hold only 26% of professional computing occupations, something the Women in Tech Regatta is working to change. The Regatta is an inclusive event that connects, amplifies and celebrates women in tech through informative and interactive events. Events like these are important to recruit and retain women in the technology field; that's why Cambia was proud to sponsor this year's fifth annual Seattle Women in Tech Regatta. 
Although attendees couldn't gather in-person due to the ongoing pandemic, the event was able to break down barriers of location and access by holding the event virtually.
Cambia Senior Vice President and Chief Medical Officer, Marion Couch, M.D., moderated a panel on interoperability ‒ or data sharing ‒ and health care transformation.
Why is #interoperability important in #healthcare?

"It impacts the way we deliver care, increases transparency and empowers people in the health care system."#witregatta #SEAWIT21 #womxnintech pic.twitter.com/MpGktwFrCW

— Cambia Health (@Cambia) April 22, 2021
Interoperability isn't just a buzz word in health care; it's changing the way people experience the health care system. Learn more about nationwide, bipartisan efforts underway from public to private entities addressing data sharing in health care in the video below.
Journi Project Manager of Business Strategy and Emerging Products, Kilaa Slaughter-Scott moderated a panel on how human-centered design can address equity, access, cost and transparency in health care.
"I'm optimistic about biases being broken across #healthcare, biases of what we assumed people wanted and needed in terms of type of support and delivery mechanisms. My call to action? Check your biases." - Journi's Director of Human Centered Design, Cale Thompson, @witregatta. pic.twitter.com/3WRkDWhM3e

— Journi (@JourniHealth) April 23, 2021
In the wake of COVID-19, there is an opportunity to address health care inefficiencies brought to light during this crisis, particularly those facing women. Learn more about how health care entities can innovate and work better together, bringing new technology and thinking to address issues like health equity in the video below.