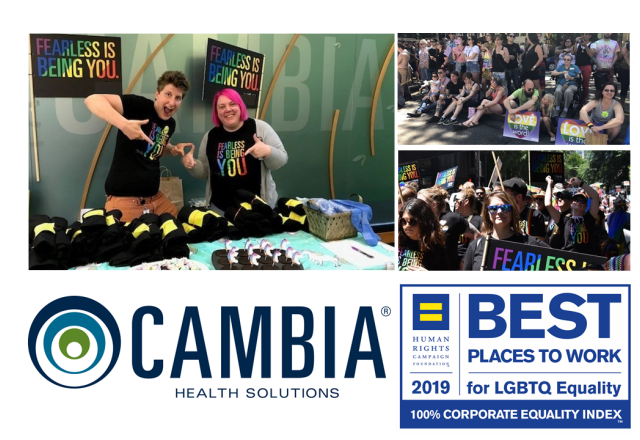 For the third year in a row, Cambia Health Solutions, has received a perfect score of 100 on the 2019 Corporate Equality Index (CEI), the nation's premier benchmarking survey and report on corporate policies and practices related to LGBTQ workplace equality, administered by the Human Rights Campaign (HRC) Foundation. Cambia joins the ranks of over 560 major U.S. businesses that also earned top marks this year.
We asked Cambia's PRIDE Employee Resource Group Co-Chairs, Manda Bednarik (pronouns: she/her) and Max Western (pronouns: they/them), to share their stories and why working for a company that cares about workplace-equality matters.

For Manda, growing up as a gay woman in the Catholic school system meant constantly hearing the message that something was wrong with her. Motivated by those messages, Manda is inspired to be an LGBTQIA+ leader that shares her platform and experience to empower other employees. "I want to give a face to people who are still looking for an example of a queer person who is open and unapologetically themselves. I want people to know that an openly queer person can thrive in society both professionally and personally," shared Manda. Adding, "No matter their background, we empower all employees to fearlessly share their diverse thinking."
This sense of inclusivity is paramount to Cambia's goal of transforming health care. Transforming the way people experience health care into a person-focused system requires the consideration of the needs of all consumers. "When we place a focus on the specific physical and emotional needs of the LGBTQIA+ community, whether that's a medical transition, family planning, mental health support, or a variety of other needs specific to the community, that is when we truly start to move towards transformation," said Manda
"Cambia's people-centric culture fosters a diverse and inclusive workspace. We are focused on understanding and taking into consideration the needs of all our employees; including their individual identities."
 – Manda, Cambia PRIDE ERG Co-Chair

 
With more than 170 members identifying as LGBTQIA+ or allies across the Cambia footprint, the PRIDE ERG is considered one of the most impactful employee resource groups and the co-chairs are excited about the vision and future.
For Max, it's about making sure the LGBTQIA+ community knows they have support. "I believe in the power of community to help people feel included and to bring about change. Growing up in Utah, I didn't have a strong community and felt very isolated. I think it's important for Cambia's employees and consumers to know that someone cares and will help them," shared Max.
"We want to foster a safe place with like-minded individuals to ensure we create true inclusion where individual's needs are heard and respected."
– Max Western, Cambia PRIDE ERG Co-Chair
A Vision of Inclusion
In the coming year, Manda and Max have planned for many educational opportunities, guest speakers, social events, and volunteer activities to build upon the group's already impressive presence at all of Cambia's offices, across the four state markets. The co-chairs also have a two-part vision of growth and inclusion aimed at expanding the sense of community among the PRIDE ERG members.
Cambia ERGs empower members of our workplace community to give back and get involved with causes they are passionate about, while also recognizing achievements and interacting with fellow employees and outside organizations. By supporting a diverse and inclusive workplace, PRIDE ERG helps to ensure the many experiences of our diverse consumers and communities are reflected in Cambia's decisions and actions.
To learn more about the Corporate Equality Index or Cambia's diversity and inclusion values, visit our page.