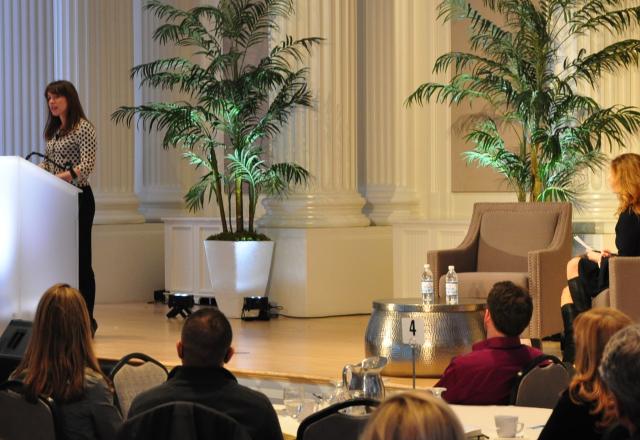 Dr. Lucy Kalanithi is an internal medicine physician at Stanford. She met her husband, Dr. Paul Kalanithi, when they were first year med students at Yale in 2003. Just as Paul was finishing 6 years of training in neurosurgery, he was diagnosed with stage 4 lung cancer. He wrote most of the book about his experience, When Breath Becomes Air, before passing away in 2015.  Lucy helped to finish the book and wrote the epilogue. When Breath Becomes Air is a NY Times bestseller and has sold over 1 million copies worldwide. She recently joined entrepreneur and palliative care thought leader Alexandra Drane for a panel discussion with leaders from Cambia Health Solutions.
Before Dr. Paul Kalanithi was diagnosed with lung cancer at age 36, Dr. Lucy Kalanithi approached her own patients with the aim of "including" them in their care.
Now, Lucy says she believes: the patient IS the plan of care. "I was humbled by the assumption of how I thought about this before," said Lucy, who came to the realization of the "person as the plan" during her husband's two-year battle with terminal lung cancer.
Today, Lucy says she would like to flip primary care on its head, where health care begins with the family doctor instead of specialists, as it does in other countries, and where health professionals are the ones who are invited into the plan of care. In this person-centered model, patients are engaged and empowered.
Lucy's personal experience not only opened her eyes to a different way of caring for people, it changed how she looked at quality, too. As a physician, she used to think about health care value as quality over cost. But as Paul's health rapidly declined and he ended up in the ICU at the end of his life, with a host of clinical questions about procedures and his condition, Lucy realized quality meant something entirely different to the patient.
"As they were talking about things like intubation and what was happening with his organs, it was becoming clear to us, it's not about these little details." What was most important to Lucy, Paul and their family as Paul faced his last days: would his baby daughter be allowed in the ICU and could he hold her?
In the book's epilogue, Lucy writes about Paul's final hours with their young daughter, who was ultimately allowed to be with him in the ICU. "The real quality measure to me that day was baby or no baby," Lucy said.
Lucy and Paul were fortunate to have health insurance that covered his treatment, but when asked if there is anything the health care industry could learn from her experience, she paused and explained that "paperwork is not just paperwork."
Recalling the $300 bill she received after Paul's death for an ambulance ride to the hospital, she said," I looked at the paper and thought no one else knows this is a little poem about the day Paul left our house and never came back."
Medical bills, whether about something you always wanted or something you never would have wished for, are laden with emotions that are not just about the finances. They're a story, or as Lucy called it, a poem about a person and his or her very personal journey through the health care system.
To read more about Lucy and Paul Kalinithi, visit their website.